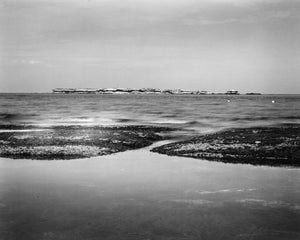 I called it "Resources" because we can see the buoys of the lobster fishermen.
Not only will we need to better understand and manage our resources, but because we like(almost want to say indulge) to manage resources, we will need to learn to manage ourselves. We are part of that nature, we are another little piece in the big scale that we cannot see.
The flat island is not the easiest to photograph, necessarily its name indicates it, it lacks relief. I tried left it alone in the middle of the ocean, something was missing no matter what sky was present that day ... so I tried to get down to its level at low tide... Mirror water in the foreground, the waves which go further on the rock on the left leaves a fog, still this movement which is present, but here, only in the middle third of the photo. A slight contrast and a lot of detail from the foreground to the flat island.
The prints are made on fiberbase Ilford paper. I used the bromophen to give a slightly warm tone to the prints. Each print is signed on the back and is accompanied by a certificate of authenticity. The paper size is 11x11 inches and the image is 10x10. 
Prices of prints 
First edition 
$200




$250

$300