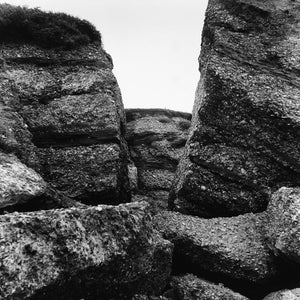 "Thing" don't seem alive, but maybe they are just at a different pace. These "things" are difficult to explain, they are right there among us without viable explanations. They exist while we are here and persist in our absence. "Things" look like dormant elements momentarily waiting to begin a new journey.
As a general rule, I don't like having a sky without detail, but I took essentially the same photo with clouds ... And "Thing" loses its impact, a superb contrast without losing detail.
The prints are made on fiberbase Ilford paper. I used the bromophen to give a slightly warm tone to the prints. Each print is signed on the back and is accompanied by a certificate of authenticity. The paper size is 11x11 inches and the image is 10x10. 
Prices of prints 
First edition 
$80

 

$90

 

$100